Power Generation and Communications
INTRODUCING: Lightning Master's innovative In-Pipe Turbine Generator (IPTG) RELIABLE, 24/7, OFF-THE-GRID GREEN POWER FOR YOUR SCADA AND OTHER BATTERY CHARGING NEEDS
Lightning Master's innovative In-Pipe Turbine Generator (IPTG) system is designed to provide electricity at isolated locations lacking commercial power. It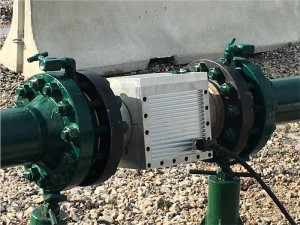 generates power using the flow of gas through the pipeline without combustion of fossil fuels.
The IPTG is an electric generator contained in a two-foot section of 6"stainless steel pipe. It is installed using standard industry flanges. Feed piping may be flanged up or down to that size. The pipe is tested to 2,000 PSI.
Magnetic flux produced by rotation of magnets on the turbine within the pipe produce electric current in coils mounted around the exterior of the pipe. The generator outputs through an umbilical cable to its control box that may be mounted conveniently near the site batteries and SCADA system for remote generator system monitoring through the existing site SCADA system.
The IPTG overcomes the drawbacks of solar panels, thermal-electric generators, diesel generators, combustion turbine generators, and wind. It is less expensive, requires less maintenance, is resistant to damage, and burns no fuel, reducing the site environmental footprint. The In-Pipe Turbine Generator is designed to generate power 24 hours a day and be very low maintenance.
Oct. 2016 Around the Oil Patch – IPTG
MECHANICAL:
Generator weight – approximately 300 pounds
Generator dimensions:

pipe – 24″ length, 6″ diameter
flanges – class 600
generator enclosures – 11″ cube around pipe

Does not compromise the structural integrity of the pipeline
Hydro-tested to 2000 PSI
Easy installation -standard 600 flanges to bolt into the pipeline
Manufactured from 316 Stainless Steel
Currently under testing for use in North American Class 1, Div 1 and Hazardous locations
Minimum product flow restriction – approximately 5 PSI pressure differential in normal operations
Theft resistant
ELECTRICAL:
250w output at 24VDC with nominal flow of 60mph through a 6″ pipe (output varies with gas flow)
Available in 12, 24 or 48 volt output
IPTG's may be run in series for additional power • Interchangeable turbine sections accommodate different gas flow rates
ENVIRONMENTAL:
Green design – generates electricity without burning fossil fuel
No combustion or pollution
Zero emissions
MONITORING:
Output to communicate generator operating parameters (RPM, voltage, amperage, and temperature) through Customer SCADA system (MODBUS, RS485, or ETHERNET)
128 day data logging
MAINTENANCE:
Low maintenance – six month inspection intervals
Rotating components are modular, with slide-out/slide-in replacement of the entire rotating section
Assuming no mechanical damage, there should be no maintenance required on the components external to the pipe.